Jigsaw Volunteers' Party 2023
06:30 pm - 08:30 pm
3/F Kerry Centre, Quarry Bay
Thank you all for your support to Kerry Engagement volunteering events.

Join the Jigsaw Volunteers' Party for a fun night and appreciate the work we have done in 2023. Colleagues will also share their volunteering experiences from the programmes this year.

All colleagues are welcome to participate.
Event Schedule
6:30 PM Cocktail Reception Starts
7:15 PM Volunteers Sharing
8:00 PM Networking & Mingling
*colleagues are recommended to arrive on or before 7 PM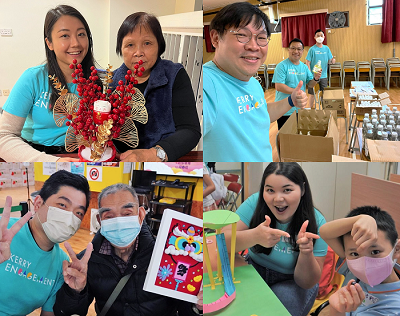 2023 Volunteer Projects
1. Chinese New Year Celebration With Cleaners
2. Into the Year of Rabbit We Care
3. Visits to Elderly Living in Subdivided Flats
4. English Is Fun!
5. Distribute Food Vouchers to Grassroots Families
6. Shall We Talk Big Sister Scheme
7. 'Fly High' Single Mom Buddy Program
8. Send Mid-Autumn Blessings to Elderly
9. 'Sunshine After Rain' Volunteer Service at Lung Yeuk Tau
10. Transitional Housing Mural Art Painting
Remarks
-Welcome all colleagues to join. Suitable for English and Cantonese speakers.
-Feel free to come along with your colleagues, please ask your invited colleague(s) to register as well. 
-Transportation fee will be covered for those working outside Kerry Centre in Quarry Bay.